Accidents occur no matter how hard we try to avoid them. Your child enters the living room with mud on their shoes, or you accidentally knock your cup of coffee on the floor.
No matter how careful we are it is only a matter of time before we dirty our carpets and upholstery – which is why you'll eventually need an expert Cape Town stain removal service.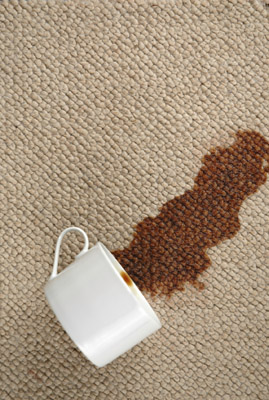 As Cape Town's best domestic carpet cleaners, we have the knowledge and skills to make even the toughest of stains disappear. Our technicians are fully trained and certified and combine years of experience with the best tools and chemicals in the industry. They're also on hand for emergency help in case you've got an ugly stain that needs removing before someone finds out!
Don't take the risk of removing the mark yourself: you might inadvertently make matters worse. With our competitive rates we'll solve the problem without emptying your wallet. We get rid of stains in carpets as well as all types of upholstery. We use non-toxic and eco-friendly stain removers that won't hurt your fabrics. These provide masterguard protection while extracting all manner of blemishes, spots and stains.
With a fine-tuned cleaning method, top-chemicals and high-end equipment, we leave your carpet looking spotless. You'll be hard-pressed to pick out any traces and there're no stains we can't get rid off. We handle the following with ease:
– gum
– foods
– shoe/nail polish
– urine
– mud
– oil
– blood
– coffee
– chocolate
– wine
– beer
– milk
Our Optimized Cleaning Method:
–       Examine the textile or fabric and decide upon the best cleaning solution
–       Pre-test using the correct cleaning agent that will not affect your carpet's dye.
–       Use a high-quality spot remover on the fabric
–       Use powerful stain extraction tools to extract the deepest of spots
For more information give us a call right now on 021 300 1794. No matter the time or the day, be assured that Cape Town's best stain removers are available to help!