Experts recommend you have your mattress cleaned once a year by a professional company. This will get rid of dust mites, bed bugs and dirt. Our Cape Town mattress cleaners will thoroughly clean, sanitize and restore your mattress, giving you a comfortable night's sleep.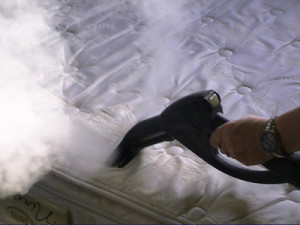 As Cape Town's best carpet cleaners, we are knowledgeable in all areas of home cleaning. A clean mattress reduces the risk of allergy in your home and helps keep you and your family healthy. Our first-class equipment feature advanced hot water extraction that simultaneously cleans and dries your mattress. By using non-toxic detergents we kill the bacteria and dust mites deep within the fabric while removing dirt and marks. With strong suction action, dirt and fungus is removed and the mattress deodorised, leaving it thoroughly cleaned and sanitised.
Our Step-by-step approach includes:
pre-treating
steam mattress cleaning
quality detergents
extraction
deodorizing
We can get rid of mattress stains using quality stain removers, leaving no trace of marks or blemishes. We select the necessary chemicals for different types of stains, such as urine and liquid, making the even the toughest of stains virtually untraceable.
Our mattress cleaners service all of Cape Town and suburbs and are available at short notice. We respect your property and we provide amazing results at a quality price. Our vehicles come stocked with all the necessary equipment allowing us to do the job on location in a timely fashion. We're also available for low cost upholstery cleaning.
Get your bedding looking and smelling great. Call us now on: 021 300 1794