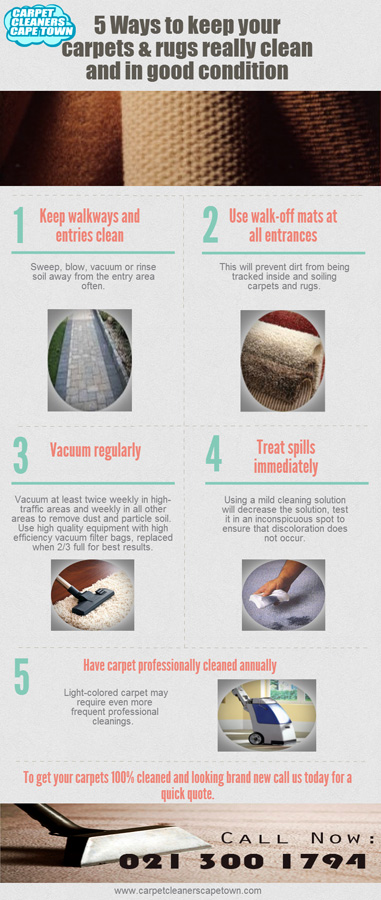 Cleaning News 25.02.14
The above graphic demonstrates ways to keep your carpet & rugs looking their very best. I'll like to elaborate on it and explain the benefits of having a clean carpet in your home or office.
Obviously a clean carpet is better to look at than a dirty one. But bear in mind a clean carpet or rug is also an investment and will add to your property's marketability. If someone comes to take a look at your house, one of the first things likely to catch their eye is the carpet and this could make or breath a deal. While an expensive rug, if cared for properly, can retain its value over many years.
More importantly, it is necessary to consider the health risk that a dirty carpet can cause. Dust settles in carpets and becomes air-borne, entering the lungs. This can trigger asthma or allergies in some individuals, as outlined in this document on asthma causes. Dust-mites can also move in and no one wants to share their home with critters like those – right?
Our clothes and shoes carry unwanted particles into the home from outside which settle in the deep into the fabric. These include pollutants, chemicals, soot, pollen and all types of bacteria. These can also settle in our carpets and pollute the air. Mould might also develop in humid climates, again causing adverse effects to our health.
A professional carpet cleaning company not only makes your carpet look and smell better but will remove these trapped particles that ordinary vacuuming cannot, leaving your carpets dust and mite free. Which is precisely what we do. If you have any questions than please drop us a line on:
021 300 1794
– Rob Muller